Numbro keeps your work contacts organized and always up-to-date
Professional contact management tool for teams and businesses.
Teams and companies using Numbro
rohlik.cz
MANA
Capexus
Entry
Why Numbro?
Prevent information leaks from the company

Prevent former employees from calling numbers, to which they should no longer have access. With Numbro, you will be able to prevent sensitive information leaving your company, thus protecting your company culture.

Have control over your employees' contacts

Protect the privacy of all your company employees and provide the necessary phone numbers only to those who really need them. Most employees have contacts that they do not need to have on their phones.

Manage your contacts without any work

A new employee is hired and needs to start working immediately. Why should he waste time adding numbers to his phone, when Numbro can do it for him?

Eliminate hanging up on unknown phone numbers

An unknown number is displayed on your mobile phone. It is a common practice to not accept calls when it is not clear who is calling. What if the caller is your new colleague with an urgent request?

With Numbro, we are able to share important work contacts to new employees in seconds. It is definitely a step in the right direction if you want to eliminate communication noise in your company. Tomáš Holenda, Technical Specialist, Mana™
Your company is safe with us
All data encrypted in transit over public networks using TLS.
All data is stored in highly secured AWS data centers.
OpenID Connect based SSO.
JWT tokens signed with asymmetric keys.
Quantum resistant security even for mobile app.
A smart service that quietly takes care of all contacts within your company
Nobody needs to learn any new tools; the contacts are available directly on the phone, i.e. in the same way your employees are used to using them.
More about Numbro's functions
Numbro as a tool is compliant with the EU's General Data Protection Regulations (GDPR)
Although compliance with GDPR is mandatory only by European law, we believe privacy is important no matter the country where you are using Numbro.
More about Privacy Policy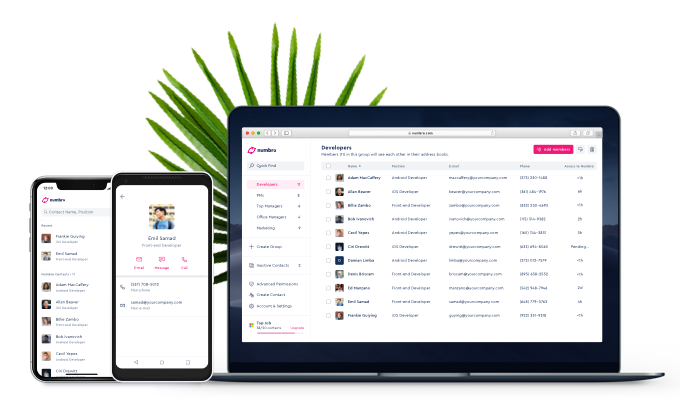 Start using Numbro
And collaborate with your co-workers faster.